A high energy coarse mix specially formulated to promote growth and condition in pedigree animals and those being prepared for the show ring.
Contains quality protein sources to build muscle and support performance.
With Actisaf for enhanced digestive efficiency and improved conversion rates.
A full spectrum of vitamins and minerals promotes visible well-being and head-turning coat shine.
Feeding Recommendations
Pedigree Grow & Show Mix can be introduced as a creep feed from 6 weeks of age at a rate of about 1kg per day.
By around 6 months of age, a calf should be consuming 2 – 3kg of coarse mix per day, alongside ad lib good quality forage.
Adult animals may be fed Pedigree 16 + Coarse Mix ad lib or at a rate of around 2% of bodyweight with ad lib quality forage.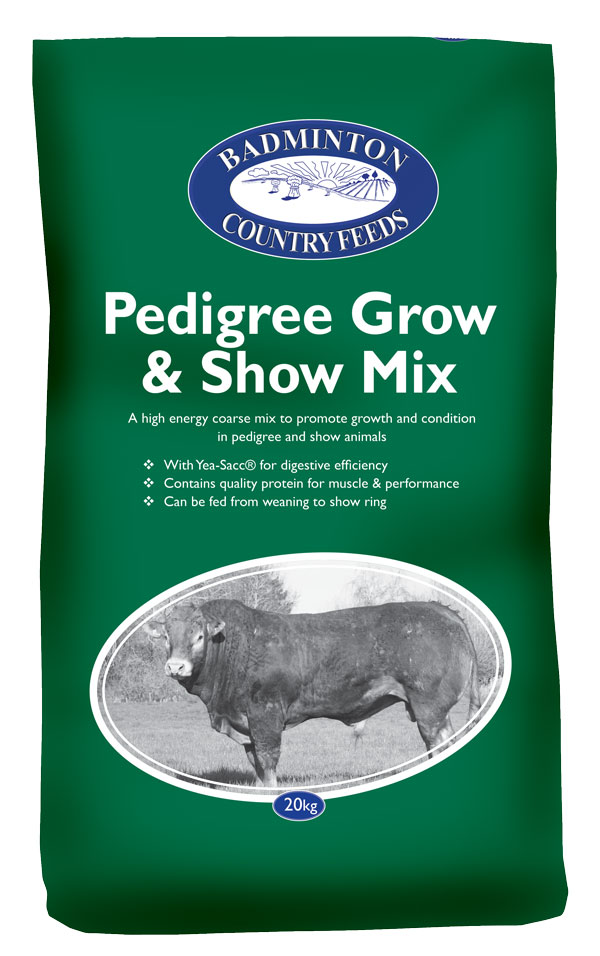 Composition: Micronised Barley, Micronised Maize, Rolled Oats, Molasses, Lucerne, Soya Bean Meal, Micronised Beans, Oatfeed, Rape Seed Expeller, Micronised Peas, Sunflower Seed Extraction, Sunflower Seed Expeller, Limestone Flour, Palm Kernel, Linseed Expeller, Sodium Chloride, Soya Oil, Sugar Syrup, Vegetable Oils & Fats, Calcined Magnesite.
Analytical Constituents: Protein 16%, Oils 3.2%, Fibre 8.1%, Ash 5.9%